Ezarri tiled the pools at the Hotel Savoy Palace in Funchal, the capital of the Madeira Islands, in the middle of the Atlantic Ocean. With its sixteen floors, the hotel welcomes its guests with comfort, luxury and relaxation, featuring a wellness area to die for, a wide variety of restaurants, and luxurious swimming pools. And Ezarri was the company chosen to clad the pools with colour and beauty.
The Savoy Palace is a five-star hotel with five hundred rooms and spectacular ocean views. Guests can also enjoy a series of gardens that combine innovation and contemporary design ­? part of Ezarri´s DNA - and key to being chosen for this project.
Customised mosaics for a wide variety of pools
The Savoy Palace in Funchal has several swimming pools for guests to enjoy:
The main pool, which has a wading pool for children, is at sea level.
An infinity pool on the seventeenth floor called the Skypool.
The VIP Lounge Pool, the jewel in the crown on another one of the terraces.
The Wellness and Spa is located on the lower floor.
And numerous private pools in the premium rooms. Highlights include the two Presidential Suites on the rooftop.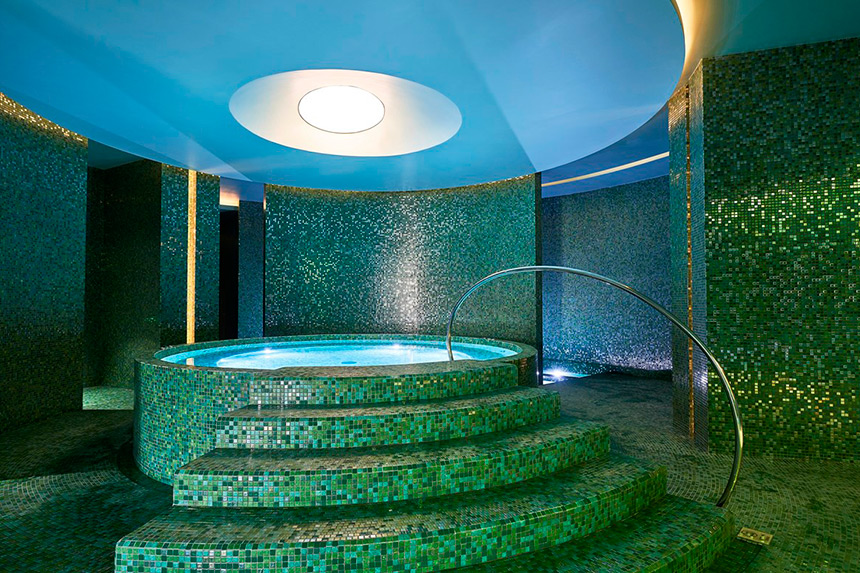 This means that 1,350 square metres of Ezarri´s special combinations and designs were put into play. In addition, more than 360 m² of Custom Printed Mosaic completely cover the indoor wellness pool and waterfall. For the final bespoke touch, the hotel´s rooftop pools were decorated with Custom Printed Mosaics: a moon for the Skypool and a huge jacaranda tree for the VIP Lounge Pool.
Added to the customised mosaics, other Ezarri products are also now part of the Savoy Palace Hotel in Funchal, including Lava, Óxido and Esmeralda, from the Metal collection, adding a glimmering metallic sheen.