Dubai is a city in the United Arab Emirates known for its luxurious commerce, ultra-modern architecture, and lively nightlife. The standard of living is extraordinary – which explains the number of architecturally designed luxury homes boasting world-class amenities. A perfect example is this elegant private villa in Dubai with its swimming pool tiled by Ezarri in white glass mosaic.
The pool features an unusually elegant design. Ezarri used Perla tiles from the Iridescent Collection to achieve the amazing idyllic blue. The iridescent effect of the white mosaic tile lends a sense of relaxation and wellbeing. A true treat for the senses.
White tile with water produces a sky-blue effect in perfect harmony with the waters of the Persian Gulf.
Play of colours in a spectacular white tiled swimming pool
In this private villa in Dubai, the effect is stunning. The blue contrasts with the ´camel´ tones of the façade and walls, with the metallic sheen of the urban architecture, and with the copper, ochre and yellow of the sands in the desert nearby.
Green also makes an appearance to achieve the blue tones of the Ezarri-tiled pool, creating a symphony of colours to offset the high temperatures in the United Arab Emirates.
The swimming pool at this fantastic villa is specially designed to provide a sense of cooling comfort. Indeed, the pool has its own waterfall on one side, and semi-submerged sun loungers and jacuzzi on the other.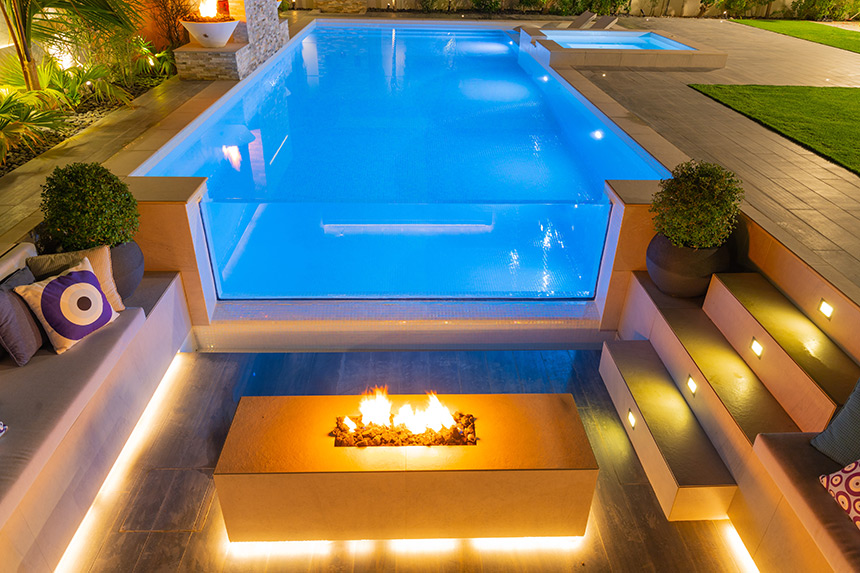 But perhaps the most interesting detail is that part of the terrace sits at the same level as the pool floor. The part of the pool that connects to the tiered terrace is made of transparent methacrylate, providing views from inside the pool. All this creates a wonderfully refreshing underwater sensation.